I may be jumping the gun a little bit, but I'm already on to 2021 with the MLB. Sure, there are some exciting things going on in the ALCS and NLCS right now, but I basically pack up and go home after the Red Sox (and Yankees) are eliminated. With that, I'm ready to think about the potential free agent targets for Boston and determine who I think would be a good fit. It's time for the Sox to get back to spending to contend, and there are certainly some candidates to throw the cash at. Let's take a look...
Trevor Bauer - Bauer is without a doubt, the crown jewel of this free agent class. He's coming off of a Cy Young caliber season in hitter's haven Cincinnati and he's widly entertaining both on and off of the mound. There are several problems here though. First, he's going to get a TON of bidders in on his services. Second, he's not exactly a guy that I think will fit in Boston well. His personality is too out there and brash to mesh with the fans and the media.

For myself, I really just want a guy that can produce and I don't care what antics he pulls if he's throwing up zeros. Still, it feels like a potentially volatile situation that could turn ugly if he didn't dominate. If I'm the Sox, I make him a good offer but I don't go wild and over-extend myself to make it happen.
JT Realmuto - The idea of signing Realmuto is a real dilemma to me. On one hand, he's the best player at his position by a wide margin and there's definetely value in that. On the other hand, do we really want to pay a 30 year old catcher the kind of huge contract he'll command? Honestly, the Sox should have made a play for him back when the Marlins were trading him to the Phillies. Now we're two more years down the road and committing what will likely be a four-year deal in the neighborhood of $80 million seems iffy. Like with Bauer, I'd make an offer, but I wouldn't go crazy.
Liam Hendriks - I kind of want to lump all of the relievers on this list together, because I think that the Sox should sign any and all of them. We need pitching, pitching and more pitching. After that, go out again and get...you guessed it...MORE PITCHING. Anyway, Hendriks is your typical non-household name that pitches in Oakland and dominates. Over the last two years, he's been pretty lights out and he's certainly earned himself a payday. With relievers, especially over 30, you really can't guarantee that they'll remain dominant for long. Still, the commodity is so valuable that I'd take a shot and sign someone like him to a 2 or 3 year deal worth a generous amount.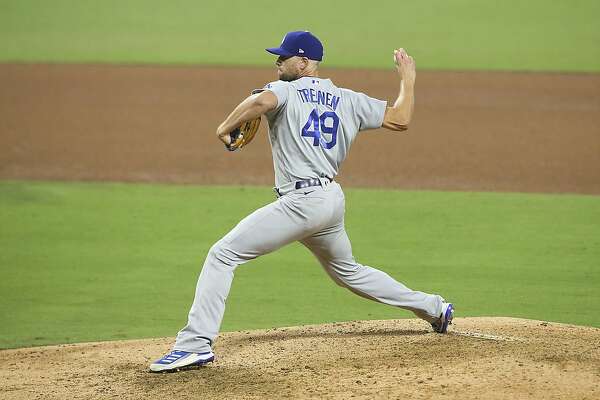 Blake Treinen - Treinen was the guy before the guy. By that, I mean that he was the unhittable closer for the A's before Hendriks was. His peak was better (in '18 he had an ERA of 0.78 and was on Cy Young and MVP ballots), but his valley was much lower (in '19 he was so bad that the A's just straight up let him go and the Dodgers grabbed him). He bounced back and while I like him less than Hendriks, I'd still take a shot on him. It's better than what we have now.
Alex Colome - As Sox fans, we've seen Colome up close and personal when he was with the Rays. He's spent the past couple of seasons in Seattle (half of 18) and with the White Sox ('19 and '20) and continued to pitch really well out of the 'pen. In 21 games this year, he gave up only 13 hits and 2 earned runs. I'm in, and Chaim Bloom should be too.
Marcus Stroman - Stroman is another old friend from the AL East as he spent most of his career in Toronto before being traded to the Mets. I've always loved his stuff (despite not garnering a lot of strikeouts) and just watching him out on the mound. He's been an All Star, a Gold Glover and even received Cy Young votes. At only 29, he's still got plenty of time ahead. His problem is durability and the fact that he sat this last season out. We haven't seen him since 2019 and he's a bit of a gamble. Still, I'd like to see the Sox make a modest offer.
DJ LeMahieu - I worry a little about LeMahieu's stock being too high after his two outstanding seasons with the Yankees. I feel like he'll receieve a lot of interest on the open market, and the Yanks will do everything in their power to keep him. I'd love for the Sox to get in there though, and not just to drive the price up. DJ is so versatile and we need that with the way our roster is constructed right now. He's a very professional hitter and a slick fielder, plus he's known to be an extremely hard worker and a good example for younger players. Bringing him in would be difficult, but I say make a push and at least make his decision tough.
George Springer - George Springer is the pride of Connecticut and the most famous UConn baseball alum. He's fun to watch and root for (that's uncommon for an Astro) and certainly could be thrown around in the conversation for best postseason hitters of all time. The Sox outfield is in disarray and this is the guy that they need to pull out all of the stops for. You can't undo the Mookie Betts trade, but you can at least try and start making some amends by spending on lesser players (still an All Star and Silver Slugger winner) to try to fill the void.
Didi Gregorious - Call me crazy, but I love the idea of signing Didi to play some third and some second while spelling Bogaerts on his off-days. He had a good comeback campaign after TJ surgery and has shown he can hack it when the moment is big.

Quick Hits On Guys The Sox Should Stay Away From
Marcell Ozuna - I love Ozuna. However, he cannot play a lick of defense and our DH spot is already taken up by JD Martinez. There's just no room.
Ken Giles - Headcase reliever.
Masahiro Tanaka - Forever Yankee. Old. Injury risk.
Nelson Cruz - I love Cruz. The Sox should have signed him or traded for him about 5 times in the last 10 years. He's old but still mashes and is extremely well-liked in the clubhouse. However, as with Ozuna, there is no room with the DH spot taken by JD.
Jose Quintana - Has not been the same since the White Sox. No thank you.
Michael Brantley - Older and injury prone.
Joc Pederson - Boston already has one castoff Dodger outfielder with a name and personality bigger than his production. They don't need another.
James Paxton - Injury risk. Old.
Cole Hamels - Injury risk. Old.