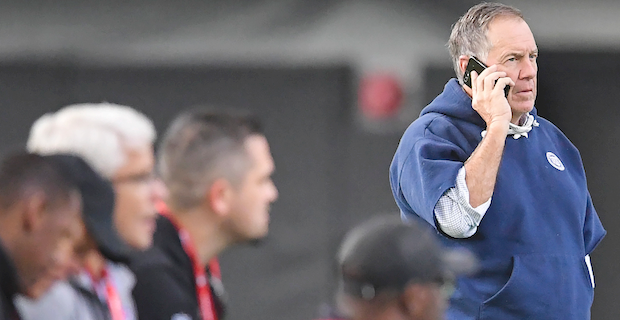 In a world that seems so upside down and backwards, we need some signs that things can be normal again. Those signs have been hard to come by, but tonight, Bill Belichick threw us a bone and gave us some hope that the apocalypse is not upon us. The Patriots pulled a typical Patriots move and traded their first round pick to move back in the NFL Draft. There are still some constants in life like death, taxes and New England stockpiling draft selections.
As the night unfolded (without a technical hitch, which was a minor miracle), we started to realize we had seen this movie before. Trading back was becoming a distinct possibility. Reports that the Patriots loved Herbert were true, but they didn't love him enough to jump up to #6 and prevent him from becoming a Los Angeles Charger. More and more players the Pats could have conceivably moved up for were being taken off the board and it became evident that they didn't see the value in reaching for anyone this year. As we got closer to pick #23, where the Patriots were sitting, the writing was on the wall.
Sure, there were still great options there for the taking like Justin Jefferson, Jordan Love, Kenneth Murray and Patrick Queen. However, Jefferson went one pick ahead of them to the Minnesota Vikings (a great fit as a replacement for Stefon Diggs) and then the news came down. 
Picks 37 and 71 for 23 https://t.co/sRNpCcjdDP

— Ian Rapoport (@RapSheet) April 24, 2020
Ian Rapoport had it first and the Pats were being the same old Pats. They were moving off of 23 to punt on night 1 of the draft and pick up tomorrow with their first move coming at 37th overall. They had needed a second round pick coming into the night because they traded theirs for Mohamed Sanu (that worked out!) and you had to know they'd get one, somehow or someway. We shouldn't be surprised. Moving back 14 spots while also adding the 71st pick is a classic New England move. We're always the team that watches as our rivals take the shiny new toys and this year was no different.
To make matters a bit worse (harder? I don't know how to characterize it), the Chargers were using our 23rd overall pick to take Murray, who fit a need at linebacker. There will be some big time second guessing if Murray ends up being something and we take some scrub tomorrow. Want me to pile on? Jordan Love went off the board to the Packers (it was going to be a stretch to get him at 37 and the trade told me the Pats didn't really care about him) and Patrick Queen fell into the laps of the Baltimore Ravens. That is an absolute steal for Baltimore and as a Ravens hater, I'm upset.
If you can't tell, I'm kind of conflicted about how I should feel about this all. On one hand, I want to simply trust Belichick because he's proven he knows what he's doing and is the greatest coach of all time. The Lombardi Trophies, banners and rings do not lie. I'm just an idiot fan sitting at his computer in South Boston. What do I know? If you don't love a player and can afford to move back and get more picks, why not? Right? 
Okay, fine. All that may be true, but Belichick the General Manager isn't the same guy. In fact, Belichick's draft history is....suspect. What's to say this year is any different? Is he making a mistake by moving back? Please tell me he's not about to take Jalen Hurts at 37. That'll be a nightmare. 
This is the catch when you are a Patriots fan. You have to have blind faith. You can't second guess, even if you might be right at times. If you can just grin and bear it as all the other teams have fun in free agency and the draft then you can get the last laugh and the parade (at least that's how it's worked until now). The Brady era is over though and it may be over in part due to how the Pats handle these things. They aren't the team to go all in and make the aggressive move like the Bucs did tonight as they traded up to insure they drafted a great player to protect Brady's blindside. While I like the way Belichick operates for the most part, he could stand to make some splashy moves every now and then. Just pick your spots!
Anyway, like I said, we should not be surprised at all. The silver lining is that the Patriots hold firm to their beliefs, even when all else in the world is in chaos. I can ride with that and I will. Tomorrow is when this thing starts for us here in New England and hopefully we'll have some fun. I'll try to put out a few more position previews (obviously excluding guys that have been drafted at this point) before we get back to it at 7 pm tomorrow night. We had some laughs tonight and it was good to have sports back, in a way.