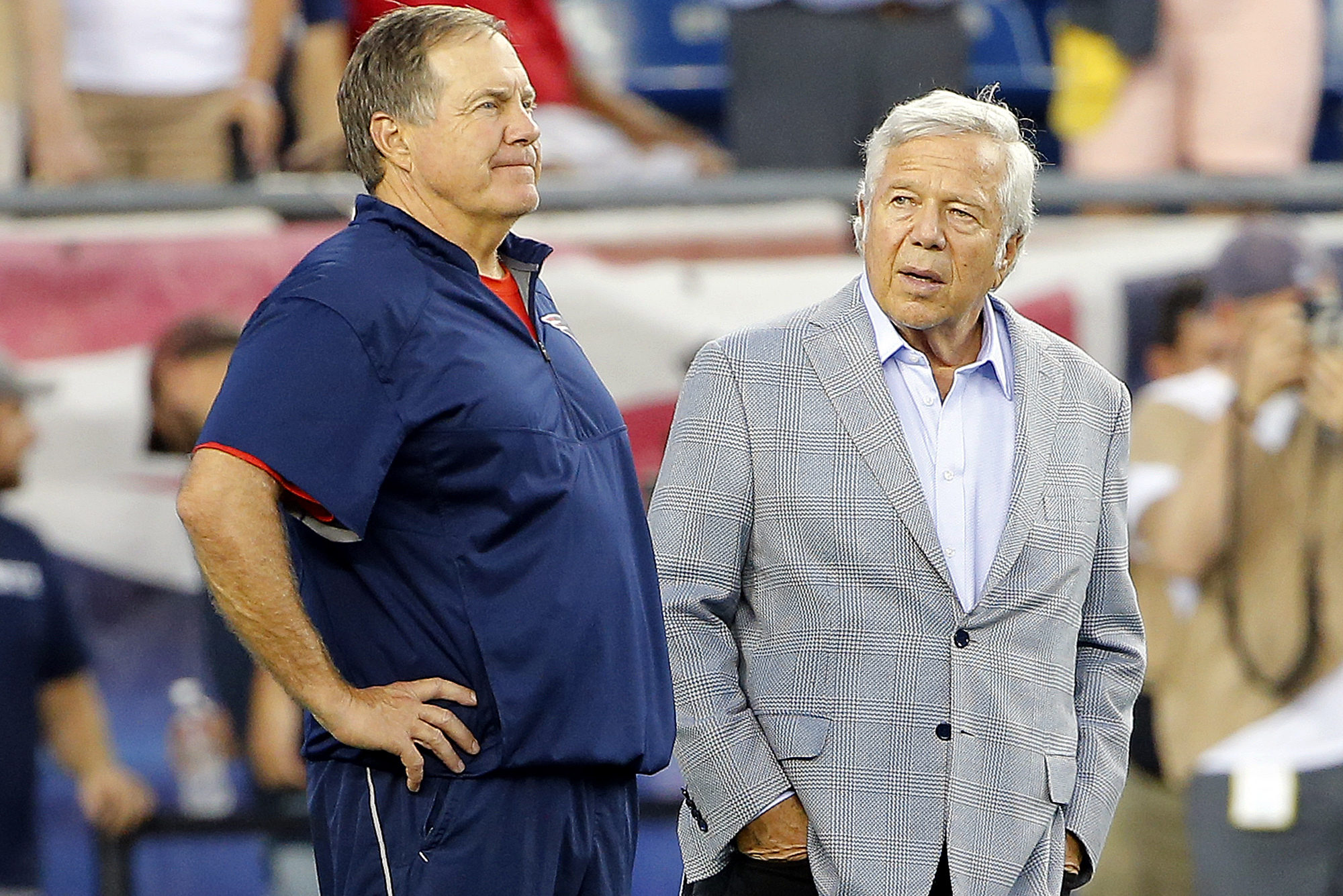 Last night we saw the Patriots trade out of the first round in frustrating, but predictable fashion. A lot of the players that I'd normally preview are now gone off the board so each write up today will obviously only feature players that can be taken tonight once Round 2 kicks off at 7 pm. I'll be locked in again as it should be a busy night for New England (with 5 picks between Rounds 2 and 3) and it's time for Bill Belichick to make his chess moves.
As Patriots fans, we're used to the draft playing out this way. The only difference is, the draft feels like it matters more without Tom Brady and with the current state of the roster. There's no margin for error because we simply will not accept it if the Patriots stink. So let's get to it and highlight the guys that we need to be watching for.
Today, we started with linebackers and now we're moving on to the "edge" position (aka edge rushers aka defensive ends or outside linebackers). This is your Rob Ninkovich, your Chase Winovich, your Kyle Van Noy or your Elandon Roberts. Once again, the Patriots have seen an exodus of many productive players that can fit this mold. It's a definite need. Without further ado, it's time to take a look at the candidates. 
GUYS THEY "MISSED" ON: Chase Young (WASN'T A MISS BECAUSE HE WAS ALWAYS GOING TOP 2), K'Lavon Chaisson
GUYS TO TARGET:
AJ Epenesa - If the Pats take someone at 37 and don't trade out again (they won't), I want it to be Epenesa. He's not really finesse as much as he is power and he lays the wood as a run stopper. At Iowa, he improved tremendously year over year and didn't have many deficiencies. The size, athleticism and versatility fit the mold for what the Pats want to do on defense so there's really no reason they shouldn't be praying Epenesa makes it to 37.
Julian Okwara - As I said yesterday in my blog about tight end prospects, I am no fan of Notre Dame. However, Okwara feels like a real fit for the Pats. He's dealt with injuries and adversity and worked his way up to being a captain for the Fighting Irish. He's got NFL DNA as his brother plays for Detroit and his smarts and effort on both defense and special teams will catch the eye of The Hooded One. A broken leg ended his college career and could cause him to slip a bit, making him a value play.
Marlon Davidson - The Pats met with Marlon Davidson at the Combine and I'd guess that they liked what they saw. He's known as a high character guy and actually should have probably been drafted last night. His weight may be a bit of an issue and his speed around the edge doesn't exactly impress. However, when you're playing in the SEC and can still come out looking like a stud, it doesn't matter how you get the job done as long as you've done it.
Jabari Zuniga - I'll be honest, I saw the Trey Flowers comp and got excited. However, there's a lot more than that to like. Zuniga didn't ever throw the pads on until he was a senior in high school and he still ended up at the University of Florida. He's totally raw but he posted some great numbers before an injury last year limited him to only six games. At the Combine, he was off the charts and all he needs is some coaching. What better place can he come to?
Bradlee Anae - This is my favorite guy to watch of the group. Anae just seems like he wants to wreck people and that's a fun trait to have for anyone on your defense. He didn't impress at the Combine but with almost 30 sacks in his career at Utah and a third team All-American honor last year, you know he does the job on weekends. It doesn't hurt that he was a team captain either.
Terrell Lewis - Okay, I'm being a bit of a sucker here. Just a few days ago it was reported that about half the teams in the NFL had medically failed Lewis after the former five-star recruit spent a good chunk of his career at Alabama nursing injuries. However, when you tell me there's a guy good enough to be playing at Alabama, who would have a first or second round grade if not for injury, and he's going to fall far down the board? I say snag him and see if things can break right. The talent is there as he's been compared to Von Miller. I see some Chandler Jones in his game and either way, it'd be an absolute steal if he can stay on the field.
Tyshun Render - Remember back a few months ago when pictures came out of Bill Belichick working out one player from Middle Tennessee State in the rain? It was hilarious at the time because Belichick was pulling the ultimate #footballguy move by traveling to a small school ahead of the draft to key in on one largely unknown prospect. Well, that prospect is defensive end Tyshun Render and it's fair to have him in this article because BB certainly has shown interest. Now, I'm not sure if that interest warrants a draft pick or if Render will be an undrafted free agent pickup, but still it makes sense to break down what the Pats might see in him.
First off, Render has skill and size befitting a legitimate prospect. He's not just some Belichick intangible dream, although he has those too. The 6 foot 4, 256 lb Render stepped up against elite competition at Michigan to show he can play at a higher level. Against the Wolverines, Render registered seven tackles, a fumble, a fumble recovery and broke up a pass. Not bad. Of course, he's a big time competitor and leader in the locker room who gives max effort and wins awards for training harder than anyone on his team in offseason activities. He's a Patriot. I hope they can find a way to make this happen so that we can keep this picture for many years to come.
The "edge" position feels pretty deep and I wouldn't be surprised to see the Pats take two or three of these guys over the course of the next two days. There's reasons to like all of them, so hopefully we can find our next great pass rusher. 
PLAYER THEY SHOULD TAKE: AJ EPENESA
PLAYER THEY WILL TAKE: JULIAN OKWARA