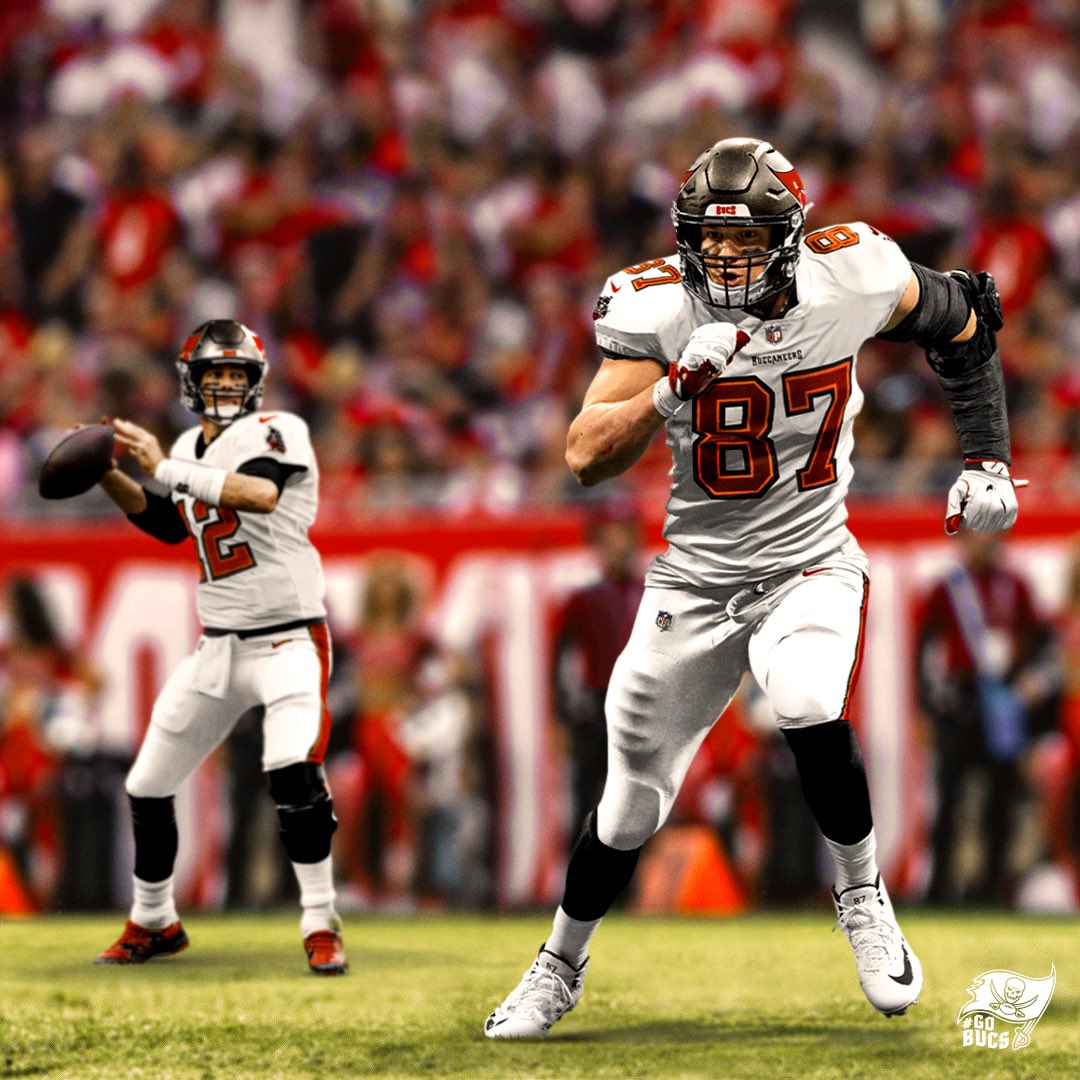 We are truly living in a simulation. Nothing makes sense anymore. Somehow, we ended up in a place where you can't go outside, you can't see your family or friends, and the two greatest players in the the history of the New England Patriots franchise, Tom Brady and Rob Gronkowski, both play for the Tampa Bay Buccaneers. What the heck happened? This new decade has put us in a total bizarro world.
I can't answer exactly why we have ended up here because it'll never truly make sense. However, I can go back and try to break this Rob Gronkowski move down to the best of my ability. Let's just start with the fact that no one saw it coming besides an internet dog. Yea, an actual dog with a Twitter account. Not Adam Schefter. Not Ian Rapoport. A dog. Named Leroy.
Hearing a wild rumor that has serious legs. Rob Gronkowski is strongly considering returning to the NFL to play for the Tampa Bay Buccaneers with his old teammate Tom Brady. Has been training in Florida in addition to Wrestlemania. Please credit Leroy woof woof

— NFL Insider Leroy (@LeroyInsider) April 8, 2020
Yep, that really happened. Barstool Sport's "NFL Insider Leroy" was spot on, despite no one taking him seriously two weeks ago. I guess at this point we have to give him credit and assume he got good information rather than haphazardly throwing something against the wall to get lucky. Rapoport and Schefter eventually caught up, yesterday around 3:45 pm. A rainy Tuesday afternoon in quarantined New England took a sharp turn with a confirmation of Gronk's plans to return.
When Tom Brady took his talents to Clearwater Beach (or TOMpa Bay or Tampa Brady or whatever stupid joke you choose), people started to speculate about the players that he would look to bring with him. Like LeBron James in basketball, players would gravitate towards joining Brady and building a "super team." Of course, the hot name everyone was throwing out was Antonio Brown (which Bruce Arians pretty much shot down) but I guess there were probably a few people out there floating the pipe-dream scenario of Gronk coming out of retirement. Even so, there was almost no evidence that would come to fruition and the idea didn't receive any real attention. It didn't seem plausible.
Sources: Retired #Patriots TE Rob Gronkowski has told New England that he's interested in playing football again — and would want to do it with the #Bucs and QB Tom Brady. A trade would have to be worked out for this to happen.

— Ian Rapoport (@RapSheet) April 21, 2020
Patriots and Buccaneers have been discussing a trade for retired TE Rob Gronkowski, per league sources. Gronkowski has one year and $10 million left on his contract. But the two sides are, and have been talking, prior to Thursday's draft.

— Adam Schefter (@AdamSchefter) April 21, 2020
After these bombshell tweets, things had gotten real, real quick. No disrespect to Leroy, but he's been wrong just as much as he's been right. This is his biggest scoop, but we needed Rap and Schefty to report this due to the fact that they are two of the most well-known and respected insiders in sports. So, Gronk was returning after a one year-hiatus to link up with Brady. He'd informed the Patriots of his intentions and asked them to trade him to the Bucs, and only the Bucs. Okay, so his comments earlier in the week to "Watch What Happens Live" host Andy Cohen about not being "totally done" playing football were real. He and Brady had been talking and keeping it all under wraps.
Just as quickly as the news about the trade talks hit, the news of the actual trade came. Only 32 minutes later, at 4:17 pm, Schefter had the deal done and the details of the transaction. The Patriots would be trading Gronk and a 7th round draft pick for a 4th round draft pick. Gronk had been putting on weight and working out with a return in mind, Brady had made it clear to teams in free agency that he was trying to bring Gronk back and a physical had even been taken by the tight end. This was all wrapped up in record time, before we could even blink. It happened so fast that speculation on what SHOULD happen or what the Patriots should get in a deal, hadn't even really begun.
Now, the opinions of Patriots fans are all over the map. A ton were upset, and they have a right to be. Gronk has held the Patriots and their fans hostage going back to 2017 when he first started to talk about retirement. He was acting up in the offseason and flirting with both professional wrestling and Hollywood. His act came off as manipulative and disrespectful and I believe the relationship between the player and the fans took a hit. His relationship with the Patriots had always seemed a little contentious (contract negotiations, rehab disagreements, a trade to the Lions that wasn't) and now it was coming to a head. 
Gronk ended up coming back for 2017 but he was a total shell of himself. By the end of the regular season, we were basically relying on him to block and be a decoy. His body was shot and it seemed like now was probably the time for him to give it up. Gronk turned up his game for the Super Bowl run and made the catch that sealed a 6th title. It seemed like a fitting end for the greatest tight end of all time.
Once the offseason came again, Gronk wouldn't let on what he was thinking of doing. There were reports of him wanting to run it back again, but I think we all knew retirement was likely. He made that call in March, announcing the end to his career on Instagram. The timing wasn't great though, as it was too late in the offseason for the Pats to go after replacement options. This led to more problems in the 2019 season.
During 2019, the Pats were basically without a tight end. They just didn't have an answer at that position and Gronk kept teasing a comeback. It did get annoying, for sure. Some of us, myself included, just wanted him to go away and get out of the spotlight so that we could stop hoping. Gronk is a guy that needs the attention though, and he wasn't letting up. 
Fans in New England openly wondered during last season if Brady was calling Gronk to come back. At this point, I'd guess he was. That's where this all gets dicey. Gronk did not want to come back at that point. He made many comments about how physically and mentally drained he was and while I don't doubt that, it now seems like something else could have been an issue. That something, would be the Patriots. Whether that means Bill Belichick specifically, I have no clue. However, it's now been reported that Gronk was only coming back under one circumstance, with Tom Brady, IF TOM LEFT NEW ENGLAND. 
If you want to be mad at Gronk and Brady (or just Gronk or whatever) that's your right. A lot of us are Pats fans and that's it. In Belichick We Trust. However, a good portion of New England seems okay with all of this and maybe even excited to root for Tampa Bay. I'll count myself as one of those people. I hate to be a bandwagon fan and proclaim that I can now root for two teams, but this is a special scenario. Everything about the Patriots is unique and unlike other sports, with this being no exception. 
Some fans might want to be mad at Belichick and the Pats, which I can also see. I'm definitely not happy with the way they handled the Brady situation, and judging by Gronk's comments today to the media, it seems as though handling Brady could have netted them the tight end as well. Who knows if that's the truth, but it stings. However, being mad about the Patriots doing the trade or the compensation, doesn't make much sense. Gronk has always been smarter than he lets on and knows the business side of football. He had all the leverage here. He never signed his retirement papers and therefore still had one year and $10 million left on his New England contract. He could strong-arm his way out and dictate pretty much everything. 
Gronkowski had two options. First, he could simply ask the Patriots nicely, to trade him and try to split as amicably as possible. That way, he could also keep his image clean with the fans in the Northeast. However, if the Pats decided to play hardball, Gronk had the ability to reinstate himself which would trigger his cap hit to spike, effectively screwing New England. The Pats, already in salary cap jail, would have to shed salary and cut players that they weren't intending to. It would have been a total nightmare and it's good it didn't play out that way. 
Should the Patriots have played a little tougher with the Bucs and tried to get more in the trade rather than agreeing to a deal so quickly? Eh, maybe. I tend to think they did pretty well considering they had no negotiating power. I fully expected them to deal him for a 5th or 6th round pick. Moving up from the seventh round to the 4th is fine with me, especially when you consider that Gronk was a professional wrestler two days ago.
Anyway, I'm glad to think about Gronk being back on a football field (even if we don't know if he can still play). I'm excited for all the hype surrounding Tampa and the story that is going to play out. Regardless of what happens, it's going to be fascinating. The two greatest Patriots of all time left and started a dream team in the NFC. The real Patriots are going to be underdogs and extremely motivated. We could see great successes or we could see someone fall flat on their face. Maybe the grass isn't greener, for either side. Either way, they don't have the play each other until a Super Bowl matchup (which would break my brain). I just hope we play football.